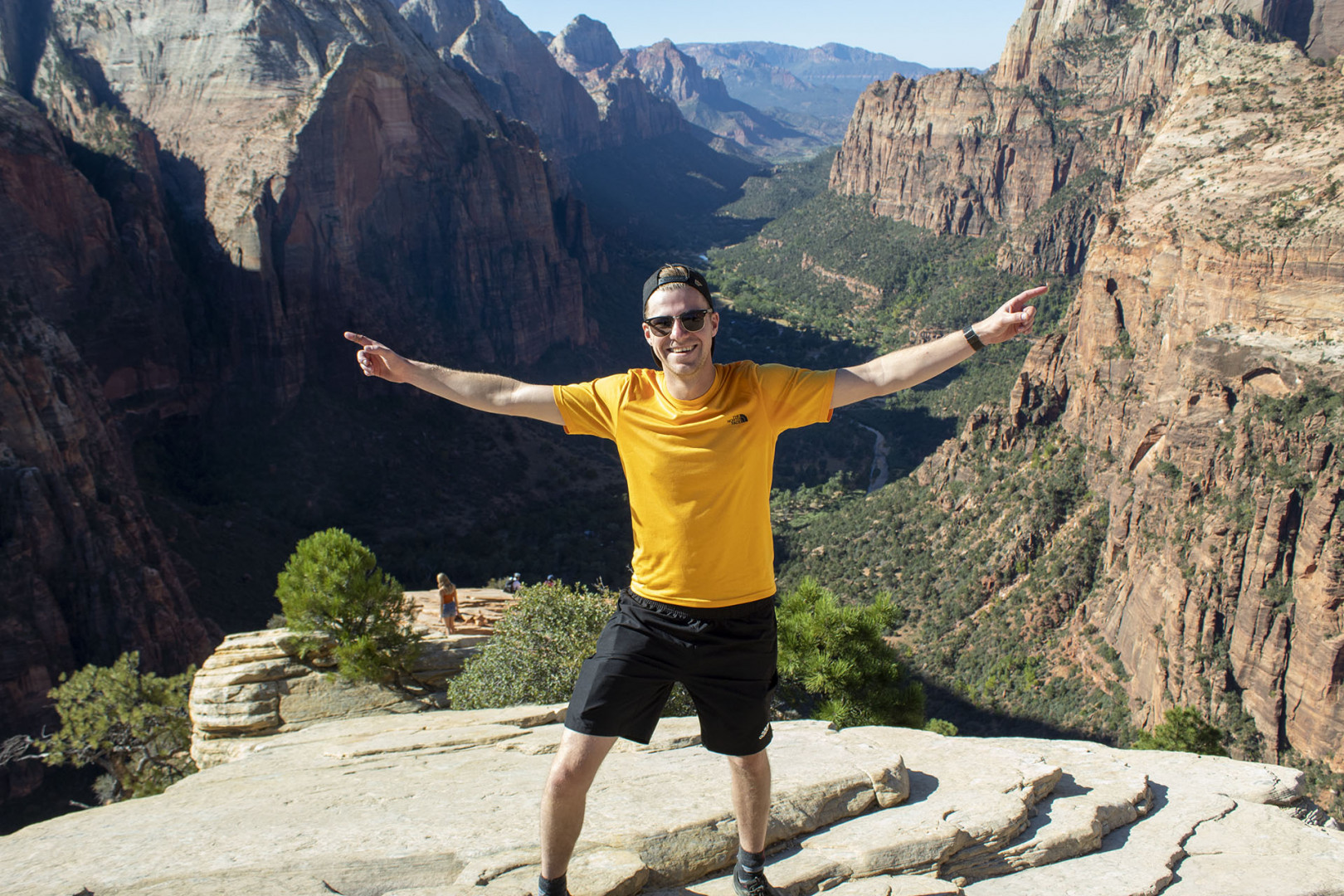 Angels Landing, Zion National Park
The Angels Landing hiking trail in Zion National Park is very famous. Some people even consider it one of the most dangerous hikes in the world. The full Angels Landing hike took me about 4 hours to complete.
Featured Places in Angels Landing, Zion National Park
Start your hike early
One huge tip I want to give everyone who is planning on hiking Angels Landing: start you hike as early as possible.

I started the hike at 8 AM which is way too late if you think about it. I would highly recommend to start your hike at 6 AM. There are 2 big reasons why I would recommend you to start hiking this early.

Temperature
The first reason being the most obvious one: the temperature. It is HOT in Zion National Park. At 6AM it's still nice and cool but later on the day temperatures can rise up to 40 degrees Celsius. During the summer temperatures are really hot with an average high temperature of 101°F (38.3°C).

Angels Landing is crowded
The second reason is the crowd. Daily a lot of people are hiking Angels Landing and this makes the hike more difficult. During the hike you have to pay attention to other hikers. At some parts you even have to wait because the hiking trails are too small to cross each other. Once you reach the chain section, which is the final part of the Angels Landing hike, it is only possible for one person at the time to climb up or down.
Be Prepared
Make sure to be well prepared if you are hiking Angels Landing. During the hike I saw a lot of people turn around because they were scared or because they were exhausted. The heat shouldn't be underestimated, it sucks the energy out of your body.

Stay hydrated
Hydration is very important while hiking. I brought plenty of water and food during the hike but I also saw a lot of people who were only carrying one tiny bottle of water.